Registration for the
2022-2023 school year IS OPENING March 1st for new families.
Please Contact us for information on how to register
We added a Rhetoric (9-12th grade) Class in 2021 so we now offer all levels from Nursery through Highschool!
---
Welcome to Catholic Schoolhouse
Catholic Schoolhouse is a supplemental program designed to help homeschool families enrich their educational experience through a flexible approach to learning inspired by classical elements, presented in a structured environment. Grammar students (K-6) study the same topics at all ages creating family unity.  The whole family has a place at Catholic Schoolhouse. Older students in the dialectic stage (6-8th) and Rhetoric (9-12th) meet for discussion and activities that are best done in a group setting–all focusing on helping them become effective Catholic adults.
Catholic Schoolhouse is more than a day out of the house; it can help bring structure and cohesiveness to your entire homeschool experience and will bless your family! For more information on what a Catholic Schoolhouse day looks like, click here.
We would love to have you join our community. Please get in touch to come spend a day with us or attend an information night to learn more.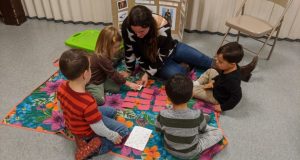 Catholic Schoolhouse is loyal to the magisterium of the Roman Catholic Church.