Welcome to Catholic Schoolhouse  – Greensburg
We're glad you're here to learn a little more about our chapter!
Day/Time: We currently meet on wednesday mornings from 9:15-12:30. For the 2021-2022 school year we plan to continue with this day/time.
Order of the Day: Our day will begin with morning prayer, chorus (if Covid restrictions allow) and the Pledge of Allegiance.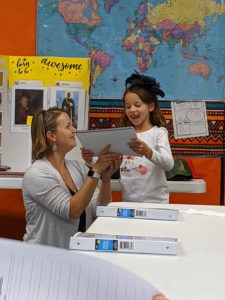 Children will then move into their age appropriate academics class where they will learn and review memory work, enjoy hands on art and science, and a snack.  After classes we will all join back together for closing prayer and announcement.  We can then share lunch and fellowship before heading home.
Books/Supplies/Fees: Tour Guide, Supply fee and Tuition fee apply to all students at CSH. For full details please visit our Annual Fees Page here.
Each family is responsible for purchasing one Tour Guide- "Tour 2" for 2021-2022 school year- from the Catholic Schoolhouse Store or through your local chapter at a bulk order discount. The tour guide is your resource for all the memory work that is covered each week. This book allows you to dive deeper into the topics discussed each week in whatever style suits your family best! 
Ages/Grade:
Nursery- Ages 0-2yrs If there is a need we will provide a nursery at cost to parents. Price will be per child.
Pre Scholar- Ages 3yrs-5yrs Using the same memory material as the Grammar students but implementing them at an age appropriate level using elements of the Montessori style. Pre-Scholar students will also do art and science classes each week!
NO HOMEWORK IS ASSIGNED- HOWEVER CHILDREN ARE ENCOURAGED TO REVIEW THE MEMORY WORK FOR 10 MIN EACH DAY AT HOME
Grammar- Grades 1-6 Each week Grammar students learn material in Language Arts, Math, History, Classical Roots, Geography, Religion, and Music. They will also work on an Art lesson and a Science Experiment each week! Learning is made fun through activities, songs, and games.
NO HOMEWORK IS ASSIGNED- HOWEVER CHILDREN ARE ENCOURAGED TO REVIEW THE MEMORY WORK FOR 10 MIN EACH DAY AT HOME
Dialectic- Grades 7-9 Put the wealth of knowledge built up in the Grammar stage to work! Students will study, Composition (IEW), Speech, Reading of great works, Geography, Art, Music, and Science experiments!
STUDENTS WILL HAVE HOMEWORK ASSIGNED.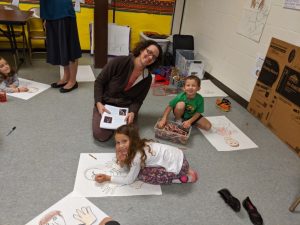 We are looking forward to an exciting and fun-filled year!   If you have any questions, please don't hesitate to contact us!!
Many Blessings,
Donna, Katie, and Rebecca