Donna Sunseri, Katie Olsen, and Rebecca Parker welcome you to our chapter! Below you will find a little bit about each of us. We look forward to meeting you and growing along with you.
---
Donna Sunseri
Welcome! I am a Catholic wife and mother of four. We began the Catholic homeschool journey in 2006, with Mother of Divine Grace when our oldest was entering the third grade. We loved the Catholic, classical approach to learning with the liberal arts model rooted in the tradition of our Catholic faith! It has been a wonderful adventure and gift to have grown with our children in this education, and to witness the beauty of an educational philosophy based on the stages of their intellectual development . Our oldest two are in their final years of college now; one is in high school and our youngest in early elementary.
With the large age gap between our youngest two, I sought more social group learning and fun for our youngest and began a homeschool group four years ago at our parish with Katie and some like-minded friends. As the children were growing into the grammar stage, it was becoming more clear that some kind of curriculum was needed to help with our efforts. With the amazing discovery of Catholic Schoolhouse, it became obvious what our next step was! A family/group approach to the Catholic, classic education that supports our curriculum at home! We are so very excited to share this opportunity with our families and our community!
---
Katie Olsen
Originally from San Diego, California, my family moved to Pennsylvania once kids were brought into the picture. Now we live on a farm and try to live a clean lifestyle by raising grass- fed beef and growing organic produce. I am the mother to three crazy kids. I started my homeschool journey as soon as my first child was two. I was personally educated in the public-school system and knew as soon as I had children that I wanted a gentle learning environment where my kids are free to learn through play and living books. I try to implement a Montessori style of teaching in my classroom. Although I feel I have found the method of teaching that my family enjoys, I have longed for a curriculum that will guide me through the school year. I feel Catholic Schoolhouse calling my name!
---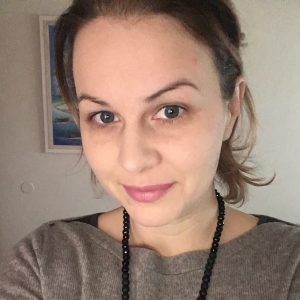 Rebecca Parker
I am a Catholic mom of 3 boys. As a child my mom pulled me out of public school because she felt she could do better for me and my sisters. Yes, I was homeschooled back when homeschooling wasn't cool :) I loved my experience and have always homeschooled my children. We have tried many different styles of curriculum (and using no curriculum at all). As my kids grew older I often felt exhausted and unsatisfied with the education my kids were receiving. I found the Classical Conversations curriculum and it changed my world. We had more free time to do the things we loved to do. My lesson planning was drastically simplified. My kids learned and retained more than they ever had and they found a renewed love of learning. When I discovered Catholic schoolhouse (a similar style to Classical Conversations but for Catholic families), I knew I needed to work to start a local chapter. I met up with Katie and Donna and everything began to take shape. My goal is to share this method with other families who were struggling on their homeschool journey and help them fall in love with homeschooling again!
---